2023 Encore Extreme

Convention and Competition North
Wyndham Lancaster Resort and Convention Center
2300 LINCOLN HIGHWAY
EAST LANCASTER, PA 17602

Friday, October 6-Sunday, October 8, 2023

Registration opened online August 1!
 Register online at www.encoredcs.com
4 levels of classes: 
MINI/PETITE– ages 8 & under     JUNIOR – ages 9-11       TEEN – ages 12 -14     SENIOR – ages 15 & up
 Convention Fees:
MINI/PETITE                                     $175               JUNIOR, TEEN AND SENIOR:            $250
TEACHERS                                       $200               OBSERVER PASSES                           $40
*Competition fees for solos, duet/trios and groups are available to teachers and studio owners only.  Teachers, please email Encoredcs@gmail.com from your studio email account to receive entry fees.
*Pay in full 6 weeks in advance to receive a 5 percent discount!
*Competition fees for solos and groups available to teachers and studio directors only. Email susan@encoredcs.com  from your studio account for fee information.
*Receive one free teacher convention pass for every 10 students registered!
*Register 50 or more paying students and receive a free hotel room for two nights!
General Event and Venue information:
A current Encore DCS Waiver must be signed and submitted prior to participation.  Students will not be allowed to participate unless a waiver has been submitted.
Lancaster, PA             Wyndham Lancaster Host Resort                              October 6-8
Columbia, SC              Columbia Metropolitan Convention Center            October 20-22
In Columbia, SC NO outside food or beverages are allowed in the venue (other than personal water bottles for dancers.)  The convention center is very strict about this policy and will ask you to throw away outside food if they see it.  Concessions will be available in the venue for your convenience!
Convention Guidelines:
Teacher wristbands and nametags will be mailed to studios that have more than 5 participants.  These should be distributed to students before arriving at the venue.  For students that are coming on their own or studios that have less than 5 participants, materials can be picked up in the lobby.  Registration times will be noted on the final schedule.
When arriving at the venue students should report to the ballroom assigned for warm up. Individual students do not need to check in at the registration desk.  Any registration issues should be handled by teachers.
Parents or guardians must purchase an Observer Pass in order to watch class. Observer passes are available for purchase for $40 at the event. Observer passes allow access to all ballrooms.  However, parent observers will not be allowed to observe The Audition Process or the Dream Team Audition. 
Door Monitors – volunteers needed!  Volunteer as a Parent Door Monitor and you will be given a free observer pass for the entire weekend and an Encore DCS t-shirt. Parent Door Monitors kindly check for observer passes as parents enter the ballroom. You will be seated inside the door of the ballroom and positions will be filled on a first come first serve basis. 
Please use the QR code below to volunteer for Lancaster:

A Sign Up for  Columbia is coming soon!
All students are eligible for scholarships!  Faculty will select students to receive full and partial scholarships to Encore Extreme and Encore DCS competitions.  These awards will be announced at the Closing Show and Awards on Sunday. 
 Audition Classes: 
The main focus of "The Audition Process" is to educate these young dancers on how to behave, look, act and perform during an audition.   Students will learn audition etiquette, tips, combinations, and will participate in a "mock" audition process.  This is not the official Dream Team audition.
Dream Team Selection: 
Encore DCS is proud to offer an amazing opportunity for advanced dancers to be cast in a one-of-a-kind promotional video and become a member of the Encore DCS Dream Team!  All Encore Extreme participants age 9 and over are eligible to audition for the Dream Team.  
Students interested in being a part of the dream team will participate in a separate Dream Team Audition at Encore Extreme.  (Date and Time TBA with final schedule.)
-Students must bring a printed 8x10 headshot and submit it to the registration desk prior to the audition.  The registration desk will be accepting headshots on Friday night and Saturday morning until 11:00 AM.  Headshots will not be accepted after 11:00 AM on Saturday.
-Headshots will not be returned.
-Headshots must have one of the student's Extreme nametag labels on the back along with age, parent email address, parent phone number, sweatshirt/hoodie size (CM, CL, AS, AM, AL, etc.) and measurements.  Females should include measurements in inches for bust, waist, hips and girth.  Males should include chest, waist, inseam, and dress jacket size.
-Email will only be used for communication if your dancer is selected to be on the Dream Team.  Measurements are not a determining factor for selection and will only be used for costuming purposes if your dancer is selected to be on the Dream Team.
-Extreme nametags must be worn in auditions and placed front and center on the dancer's chest.  Please keep this in mind when choosing dancewear for the audition.
- Finalists will be announced at each Encore Extreme event and the final Dream Team cast will be announced on Instagram October 29 at 6:00 PM EST.
Factors for Dream Team consideration:
-Performance in the Dream Team Audition
-Jazz, Hip Hop, Contemporary and/or Tap Technique
-Ability to stand out in the crowd
-Commercial look/feel and potential to work with a camera
-Positive attitude and hard work ethic
- Dream Team members are also ambassadors of our company and the faculty will look for students who are welcoming to others and courteous/encouraging in class.
Dream Team auditions are optional and are closed to teachers and observers.  Students must be 9 by October 22, 2022 in order to audition.  Students that have already graduated high school are not eligible for Dream Team.  The only exception to this rule is for students that are competing the full regional year for 2023-2024. 
Students chosen for this experience will be choreographed, staged and featured in a video to create a new advertising campaign for Encore DCS in Columbia, SC January 13-14, 2024.  Please do not audition if you are not able to participate in the filming.  The fee to participate in Dream Team is $125 and includes a Dream Team Hoodie, costume, professional headshot, and professional makeup for the shoot.  If chosen, the deadline for submitting payment is November 5, 2023.
General Competition Guidelines:
As always, we offer free livestream of all performances!   The competition is open for all spectators and observer passes are not needed to watch the competition.
Dressing room space will be assigned and each studio will have a designated area.  We ask that only one adult per child is in the dressing room, with no additional siblings or friends.  If possible, we encourage students over the age of 12 to help each other with quick changes so we can limit the number of people in the dressing room.
All competition music should be uploaded to your Dance Comp Genie account prior to the event.  We will no longer accept USB or CD's at the event.
Photos and videos of all routines are included with entry fees and can be accessed from home within five days following the competition via digital download.  Parents will not need to view or purchase photos or videos at the event.
Rules concerning tricks, categories, etc from Encore DCS competitions apply to Encore Extreme and can be found at www.encoredcs.com.
Solo Competition Guidelines:
Encore Extreme Solo Showdown Competition will be held on Friday and Saturday. Winners will be announced in our Closing Shows on Sunday where our new Mr. and Miss Encore Extreme will be announced!
One solo per student. All soloists compete on the same level.  There is no differentiation between recreational, competitive and elite.
Soloists must participate in the convention in order to compete a solo. Awards are determined by 80% solo score and 20% class participation/standing out in class.  All soloists will compete in the age division in which they fall on the first day of the event and all students will compete in the same level.  Students must take class and compete in the same age group.
Soloists will be awarded medals and adjudicated placements on Sunday at the Closing Show and Awards ceremony for their age group.
Title winners in each age division (Mini, Petite, Junior, Teen and Senior) will be announced at the awards ceremony on Sunday afternoon and will receive a Trophy, Crown, Banner and an Overall Convention Excellence scholarship. Title winners are invited to be our VIP assistants and help crown the new winners at the convention the following year!
Overall Mr. and Miss Encore Extreme will receive a crown, banner, trophy and a $100 gift certificate to any Encore DCS Regional Competition.
Title winners from the previous year are not eligible to compete in the solo competition the following year. We invite title holders from the previous year to be our special guest assistants at the convention.
Group Competition Guidelines:
Encore Ovation Challenge will feature the top groups from each participating studio battling for the ultimate title and $1000 cash prize.  Each studio is invited to bring up to TWO duet/trios or group routines in each age division and compete for the title of "Encore Extreme Champion" on Saturday night.  Awards will immediately follow group competition.  An Overall Winner in each age division will be announced as well as the Overall Encore Extreme Champion!
Two entries per studio for each age division (Mini 5 and under, Petite 8 and under, Junior 9-11, Teen 12-14, and Senior 15-18). Ages for group competition are determined as of January 1, 2023.
Each group will receive LIVE judges feedback from one judge immediately following their performance. After the routine has been completed please instruct students to immediately line up across the front of the stage to receive their feedback!
Duet/trios, small groups, large groups and super groups are welcome. (Productions are excluded.)
V919
2023 ENCORE Extreme
Competition Rules and Regulations
1. All entries should be completed via online registration at www.encoredcs.com at least 28 days
prior to the event. Registration is accepted on a first come first served basis and is limited to the
amount of competition time available. Many events reach capacity well before the deadline and
any entries exceeding the limit will be turned away.
2. Payment by check can be mailed to 203 West Butler Street Lexington, SC 29072. Credit card
payments are accepted online with a 3% service charge. Money orders are not accepted via postal
mail.
3. A 50% deposit of total entry fees must be received 28 days prior to the event. Full payment must
be received at least 14 days prior to the competition date or a $10.00 late fee per entry will be
added. A $25 fee will apply to all returned checks. Returned checks will automatically be turned
over to an outside Collections Agency and/or the Solicitor's office. Absolutely no personal checks
for entry fees will be taken at the event and any unpaid entries will not be allowed to perform.
4. No refunds of fees will be given after the deadline date. A credit for another regional competition,
Grand Finals, or Encore Extreme will be issued to the studio in the event that a dancer is unable to
perform.
5. We do not accept independent entries. Independent dancers can register for Encore Extreme
convention classes, but must be registered under a studio name if competing in the solo
competition.
6. Gift certificates and scholarships for Encore DCS and Encore Extreme are NOT interchangeable
and can only be used at the event listed on your certificate.
7. All Parents must sign a Waiver in order for their child to participate. This can be downloaded on
the registration page of our website and should be submitted with payment two weeks prior to
the event. An electronic waiver option is coming soon!
8. Encore DCS reserves the right to change the number of competition days based on registration
received and is not liable for refunds based on schedule changes.
9. Dancers should be ready to compete at least ONE HOUR ahead of their scheduled performance
time.
10. Unless arranged ahead of time, a 5-point deduction will be made for any routines not performed
within three numbers of the scheduled order.
11. Music should be uploaded to the studio's Dance Comp Genie account at least two days prior to the
first day of the event. If unable to upload, music can also be submitted at the event on one Master
CD or Flash Drive per studio. If using CD, a playlist listing the order of routines must be provided.
If using a flash drive, please label each file with the entry number and song title. A backup form of
music is always required. We recommend iPads, iPods, computers, or USB drives for backup and
prefer not to use cell phones.
12. Professionals or teachers are not allowed to participate in the competition portion of Encore
Extreme. A professional is defined as any person 20 years of age or older who is or has ever been a
teacher, assistant teacher, or professional dancer.
13. All other dancers in duet/trios, groups, and productions may enter as many categories as they
wish as long as they do not compete against themselves in the exact same groups. (Soloists are
limited to one solo at Encore Extreme conventions.)
14. A 10-point deduction will be made for routines that are not completed. This applies to dancers
that re-perform their routines after a false start unless the re-performance is caused by a technical
error or other uncontrollable event not attributable to the dancer's performance.
15. Small, freestanding props are allowed but must be easily moved into the theater and on & off stage
without disrupting the competition in progress. Fire, water, or excessive littering is not allowed
on stage and any debris should be removed by the studio within 30 seconds following the routine.
Human props are allowed, but any person on stage must be registered in the event and their age
should be included in the average.
16. No lighting changes are allowed at Encore Extreme.
17. We at Encore DCS pride ourselves on running a family friendly competition. If every judge on the
panel feels that a routine is inappropriate for the age a 10 point deduction will be made.
18. Teachers and studio directors should bring any question or challenge of routines or rules to the
attention of the Encore DCS director in charge prior to the respective awards ceremony.
19. Encore DCS provides free livestream when possible. Please note that competition location and
wireless signals affect our ability to provide this service. It's important to let friends and family
watching the competition know that the competition may run ahead of schedule.
20. Photography and video recording is always prohibited! Videotaping and photography of any kind
is not allowed in order to protect choreography and due to our contracts with professional
videographers and photographers. Personal cameras, video cameras, and any other recording
devices are prohibited in the auditorium.
21. All dancers, teachers, and guests are expected to display good sportsmanlike conduct to all
participants at all times. Encore DCS does not discriminate, but does reserve the right to refuse
entrance to any competitor, spectator, studio, or individual that has been deemed to exhibit
unsportsmanlike behavior.
22. Only performers, teachers, and staff are allowed on stage before, during and after a competition.
23. All awards and music should be picked up at the conclusion of the event and will not be mailed. Judges audio critiques and score sheets will be uploaded to Dance Comp Genie after the event and will be emailed to teachers within three days of the event. Score sheets and video critiques will be available in the studios Dance Comp Genie account.
24. All teachers, parents and participants give Encore DCS the right to use their photo or video with
any advertising or media campaign. By performing at Encore DCS events, all competitors consent
to the use of photographs and/or video footage for promotional purposes, which may include
social media and streaming of routines online.
25. Gift certificates that are awarded to groups can only be redeemed for group entry fees at future
Encore DCS events.
26. Encore DCS and the hosting venue are not responsible for personal injury or property loss to
either contestants or spectators. Performers in a dance competition are subject to risks which can
include, but are not limited to sprains, pulled muscles and broken bones. Participation in Encore
DCS events indicates the acceptance of these types of risks and participants and spectators agree that
they will not hold Encore DCS, its officers, employees or staff responsible for injuries or
illnesses contracted by them while in attendance of any Encore event.
27. Rules and regulations are subject to change and are always available at www.encoredcs.com
V919
Dance
with the stars in 2023
Coming Soon

Three days of master classes in Jazz, Hip Hop, Contemporary, Tap, Ballet, Musical Theatre, and more! Also featuring workshops, classes and networking events for teachers AND Jazz Funk classes for parents!
Experience our exciting group competition with live judges' feedback for all routines and a $1000 cash prize!
Compete for the title of Miss and Mister Encore Extreme! 
2023 Choreographers
Lancaster, PA
Ashley Payne
Ashley Payne hails from Buffalo, NY holding a B.A. in Dance Performance from the prestigious Point Park University. As an international adjudicator, professional dancer and choreographer, Ashley has studied and taught throughout New York City, Miami, and now Chicago. As a performer, Ashley has appeared in film, television, concert dance and theatre productions.  
Ashley's first standout roll was in the University production of Contact where she was a featured dancer and served as dance captain. Professional credits include: Regional Performances of: Contact; Grease; Mame; Fame and Sing, Sing, Sing; Episodes of: The Rachel Ray Show, Blue Bloods, The Dark House, and Company Work: 11:11 (The Company by Slam); DSMR; Crazy Love.  Ashley has served as a choreographer for Jordan Sparks, Flash Mob America, Chicago Freelance Dance Festivals and created an original work for ConvergeDance Dance Company.  You may recognize Ashley from promotions for Verizon, Oreo Cookies, M&Ms, Estee Lauder, Suave and Avon.
Read More
Allynn Simons
Allynn Simons is an NYC based freelance casting director who has the pleasure of casting for TV/Film, commercials, theater and print. She holds a B.A. in Musical Theater with a minor in dance from Point Park University. While in school, Allynn was chosen to dance in original pieces choreographed by Kiesha LaLama and Kiki Lucas, just to name a few. 
Before settling in New York City, Allynn taught dance and musical theater all over Pennsylvania and New Jersey and still teaches numerous classes all over the country. She is also a regular faculty member of QUEST Intensive; a prestigious in-studio dance experience that brings the industry to the studio. She is currently a faculty member at THRIVE Dance Convention where she teaches contemporary and how to market yourself. She also adjudicates for numerous dance competitions in the U.S. 
She is also a regular faculty member of QUEST Intensive; a prestigious in-studio dance experience that brings the industry to the studio. She is currently a faculty member at THRIVE Dance Convention where she teaches contemporary and how to market yourself. She also adjudicates for numerous dance competitions in the U.S. Some of her favorite casting credits include: the North American premier of Dirty Dancing, The Mansion which premiered at Sundance and a multi-million dollar campaign for NIKE that had her casting on the streets of NYC. She enjoys traveling to choreograph all over the county for which she has won numerous awards for. She grew up in the dance competition community and loves seeing young artists flourish. The future of the arts is in the hands of the next generation, so let's cultivate it!
Read More
Brandon Girouard
Brandon Girouard BA/MFA is a highly in-demand international choreographer, teacher, dancer,  and talent manager – having brought audiences to their feet in Paris, Canada, London, Argentina, NYC, Mexico and Spain in summer of 2017. Known for "compelling, explosive movement", Brandon has performed with dance companies such as dancetheatreX, Melanie Stewart Dance Theatre, Ailey 2, Koresh Dance, Plasma Dance Theatre, and for Bill Clinton's Inaugural Presidency Gala. 
Brandon resides as Guest Faculty at Broadway Dance Center NYC, Millennium Dance in Philadelphia, Studio Harmonic in Paris and is faculty to many dance conservatories on Long Island, NY. Holding a BA in Theatre & Dance from Muhlenberg College and a MFA from NYU, Brandon also studied for 18 years at the Cheryl McCormack Academy of Dance in New Bedford, MA.
Read More
Josh Perez
Josh (Jato) Perez has helped launch many Hip-Hop programs over the years at multiple dance schools in the New England area. He has trained with master teachers from around the world. In 2010 he made his television debut on the 5th season of MTV's "America's Best Dance Crew" with his crew "Draztik". In 2012 Josh toured with Jordan Knight of "The New Kids on the Block". In early 2017 he choreographed and was showcased on the hit reality TV show "World of Dance" by Jennifer Lopez. He also choreographed opening acts for some of the industries best like Chris Brown, Afrika Bambaataa, The-Dream, Lloyd, Busta Rhymes, and many more Artists.
Josh's style goes beyond Hip-Hop, Josh is the real deal with the perfect combination of natural ability, learned skills and determination. With the emerging popularity of Hip-Hop, his high energy, fun and original classes are a game changer for today's youth. Josh brings a fresh, new, authentic style to his classes and he is excited to be able to share his love of movement with all dancers.
Read More
Lauren Hummel
New York based artist, Lauren Hummel is an award-winning choreographer and dancer in the industry. She began her artistic career in Syracuse, NY where she grew up training in all styles of dance and was a competitive and convention dancer for 15 years. Lauren holds a BS in Business Administration with a Minor in Dance from SUNY Geneseo where she completed an additional 4 years of performance dance and worked with numerous guest artists including John Lehrer and Guy Thorne. Lauren is a sought after choreographer who travels to share her passion and knowledge with young artists all over the country.
She is currently on faculty with Quest Intensive and Encore Extreme Dance Convention and is a judge for Encore DCS. Lauren is known for her work in Contemporary dance, which has led her to receive multiple choreography awards and recognition for her innovative and distinctive choreography. Most recently, Lauren was awarded Top Choreography 2022 for her piece Cry Me a River by Young Creators Challenge X CREO. Follow Lauren @laurenhummelchoreo.
Read More
Jenny Oehlwein
Jennifer Oehlwein grew up in the competition circuit and has now made a career out of dancing, choreographing, and directing professionally. A graduate of Point Park University with a B.F.A. in Dance and a minor in Musical Theater. I have been blessed to have been dancing professionally ever since graduation. In addition to dance I am also a singer and aerialist. 
Upon moving to NYC 3 years ago a new challenge fell into my lap as a rehearsal director/installer for an entertainment company that casts for a multitude of different arenas. Cruise-ships, national tours, theme parks, industrial gigs, etc. When I am not working on their shows and installing their casts of professionals. I also work with their casting team assisting there dance calls all over the world and teaching master classes. Most recently I have taken a step back into the performance side of the dance world performing in Legally Blonde, The Bodyguard, and the national tour of Elf the musical! I am very passionate about dance education and students who love what they do just as much as I do. I consider myself lucky to have made a career out of my life passion and look forward to continuing it with inspiring dancers this competition season!
Read More

Encore DCS is proud to offer an amazing opportunity for elite dancers to be cast in a one-of-a-kind promotional video and become a member of the Encore DCS Dream Team!
Students were selected at Encore Extreme and this January each dancer was choreographed, staged and featured in a video to create a new advertising campaign for Encore DCS. This opportunity gives up and coming stars the chance to taste what the world of entertainment has to offer with a "dream job" experience.
Professional lighting, staging, make-up, choreography and directing are just some of the many facets of this experience! The video features many styles of dance and is the perfect opportunity to showcase well rounded dancers.
Interested in becoming a member of the next Encore DCS Dream Team? "Shooting Star" tickets will be awarded at Grand Finals. This ticket will give select dancers a free convention fee at Encore Extreme and guarantees their spot on the Dream Team. The remaining Dream Team members will be chosen at Encore Extreme this fall. Don't miss out on the "Dream Team" cutting edge experience only offered by Encore DCS!
Congratulations to the 2022 Lancaster PA Encore Extreme Dancers
Overall Mister Encore Extreme
---
Tony Mercado
The Dance Works LLC
Overall Miss Encore Extreme
---
Onna Williams
Evolve Dance Comples
Senior Miss Encore Extreme
---
Cailley Walsh
APDC

2023 Host Hotel for Encore Extreme North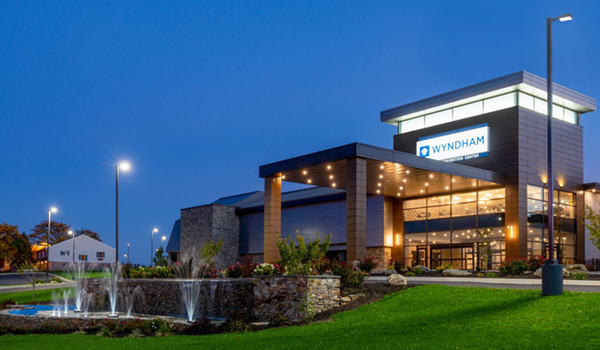 The Wyndham Lancaster Resort and Convention Center
Lancaster Resort by Wyndham
2300 Lincoln Highway East
Lancaster, PA 17602
SPECIAL RATE: $164 (Triple & Quad=$174)
(Encore Dance Company)
CALL FOR RESERVATIONS - (717) 299-5500
* Hotel is Inside of Venue 
For help with reservations, contact:
Don @ 904.303-4424