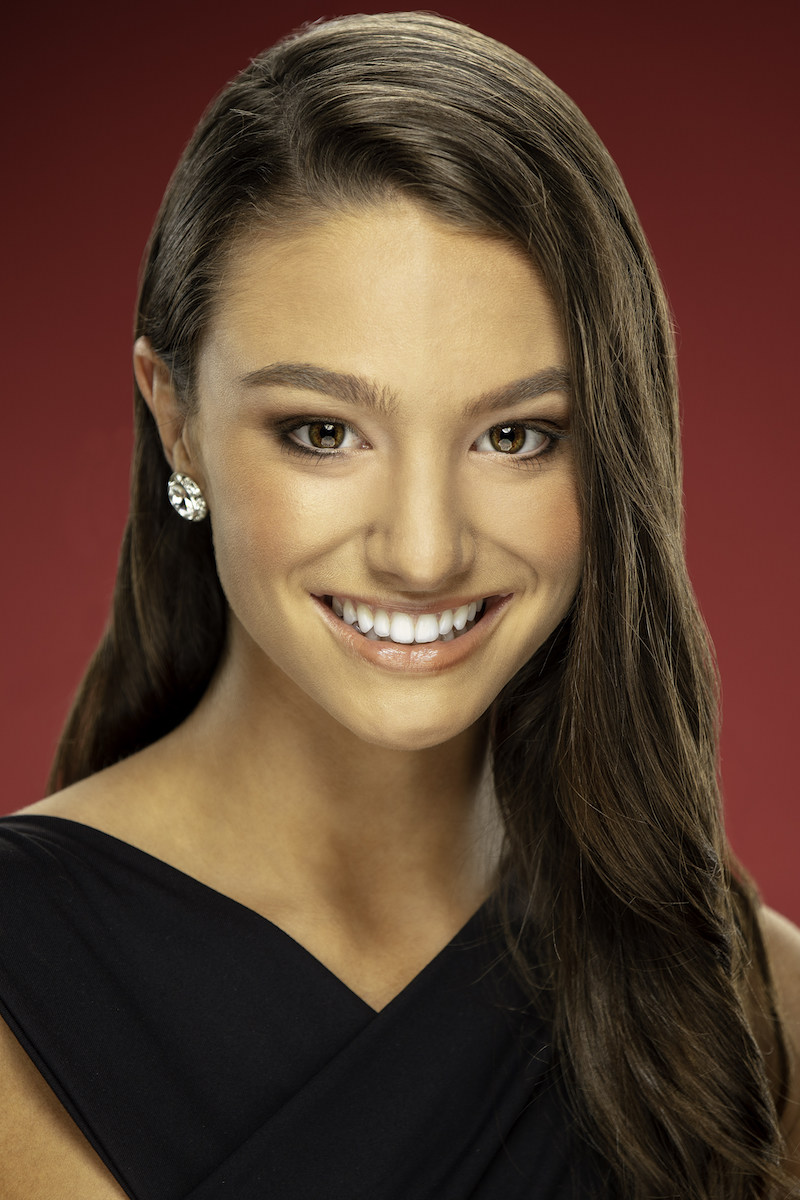 Katelyn Marie Ledbetter is 18 years old and lives in Flat Rock, NC.  She is a senior at Hendersonville High School.  At her school, she is captain of the Varsity Cheer Squad and Dance Team.  She is an honor roll student, 2019 Homecoming Queen and for 4 consecutive years has received the award for being the Bearcat Most Spirited Student Award.  
Katelyn has been dancing at Pats School of Dance since she was 7 years old. She is proficient in tap, jazz, lyrical, hip hop and ballet. In 2017, she was crowned Miss Hendersonville's Outstanding Teen and represented the town of Hendersonville in the Miss North Carolina pageant, where she won Miss Congeniality with the Miss America Organization. Katelyn premiered in the 2016 Dirty Dancing Remake with Lionsgate Productions. She has been a part of the 2015 Holiday Bowl in San Diego, the 2016 Orange Bowl in Miami and 2020 Holiday Bowl in New Orleans. She was a featured dancer in a recorded music video in Los Angeles, CA in 2015; "Love Me" featuring Frankie J.  Katelyn performed on Carnival Cruise Lines in 2017 and 2019.
She also performed in Walt Disney World, Florida in 2014 and 2018. Katelyn has competed in many genres of dance and received numerous awards all over the Southeast.  She recently competed and won the title of Miss Senior Teen Turn It Up Dance in 2018 and 2019. She was chosen as a Regional Encore Super Soloist in 2018 & 2019.  Most recently in September 2019 she was crowned Miss Encore Extreme and was selected to be a part of the 2020 Encore Dream Team.  Katelyn will be attending the University of Alabama this Fall and major in Sports Broadcasting.  Sha plans to continuing auditioning for dance and the Alabama dance team.  "Kate" enjoys shopping, Starbucks, watching movies and spending time with family and friends.  
Katelyn would like to thank her family for their love, dedication and support, her favorite dog "Cocoa" for loving her unconditionally, and Miss Pat, Miss Sher and her dance instructors at Pat's School of Dance for teaching her dance and many life lessons. Katelyn would also like to recognize Mike Farella for being so amazing to work with! In addition, she would like to thank the Faculty at Encore DCS (Rhonda, Laura, Hiliarie, Chris, and Caroline) for the honor of being selected the 2020 Cover Model and for the amazing opportunities and memories at Encore DCS.

Olivia Hummel is 14 years old and lives in Baldwinsville, NY. She is in 8th grade at Durgee Junior High School. Olivia trains at Artistic Design's Dance Company five days a week and is on their Elite Competitive travel team. She has been dancing since the age of 3 and has been performing and competing solos, duet/trios and group routines since the age of 4.
Olivia's passions are in contemporary and hip hop genres, but she loves training in all styles of dance including point and most recently ballroom. Olivia plans to continue her training primarily by traveling as often as possible to learn and grow from taking master classes from top choreographers and masters in the industry. Liv has earned many regional and national solo titles, first overalls, and has received numerous scholarships to continue her training with companies and organizations across the country. Her most recent accomplishments include winning first overall Super Soloist and Highest Scoring routine for 12 and over at Encore DCS nationals in the summer of 2019. She was chosen to represent Encore DCS in 2020 as one of the Cover Models. She also earned multiple scholarships this season including an invite to become a member of a junior contemporary company called Geometry with Soul De Soul. She received Soul Elite status with this company.
Liv has been offered an AMDA High School Conservatory scholarship that she will use to train in NYC this summer. Liv feels very blessed to be recognized by her teachers and peers and to have been given such amazing opportunities at her young age. She is thankful for her Artistic Designs dance family as well as the relationship she has built with Encore DCS over the years. Liv would like to send appreciation and gratitude shout outs to her dance team, dance studio, Encore DCS, Encore Extreme, Mike Farella with Exulting Images, Hiliarie Covington and Christopher Robbins for choosing her to be a member of the 2020 Dream Team, her friends and family, and all the people who continue to support and guide her by believing in her potential and pushing her to be the best artist she can be.
Want to be the next Encore DCS Cover Model? Attend Grand Finals this summer for your chance to be our next featured dancer!