Meet the Encore DCS Family

Our dream is to give aspiring dancers a beautiful stage to showcase their God given talents in hopes of growing and learning how to be even better. May your light shine bright on the Encore DCS stage and may you always reach higher than you ever dreamed possible, because in the word "Impossible" is "I'm Possible!"
After owning and directing 4 successful dance studios in SC for a combined total of over 50 years, Rhonda Marchant and Naomi Calvert aspired to build the perfect dance competition.
It all began in 1997 at Sottile Theater in Charleston, SC with an invitation-only competition for friends in the dance business. Each year they added a few new cities and made the competition even better. In 2005, Susan Barnes, a former student of Rhonda's, became Co-Owner and brought a third generation of dance experience to the corporation.
Encore DCS is now proudly hosting over 27 regionals, one huge Grand Finals, and Encore Extreme – an exciting dance convention and competition! We are proud to provide you with the friendliest staff who are all a part of our extended dance family.
Competition always brings out our very best, but let us not lose perspective of the real spirit of competition as spoken by the dance legend, Mikhail Barishnikov…"I do not try to dance better than anyone else. I only try to dance better than myself."
---
MISSION
Encore DCS strives to provide dancers, parents, and teachers with the most organized and professionally run dance competition with the highest level of southern hospitality and superior customer service to promote, inspire, and encourage all dancers with nationally acclaimed judges, a warm and friendly staff, and positive inspiration combined with a fun family atmosphere. We do this all to honor God and seek to share our success by reaching out into our community and helping those in need.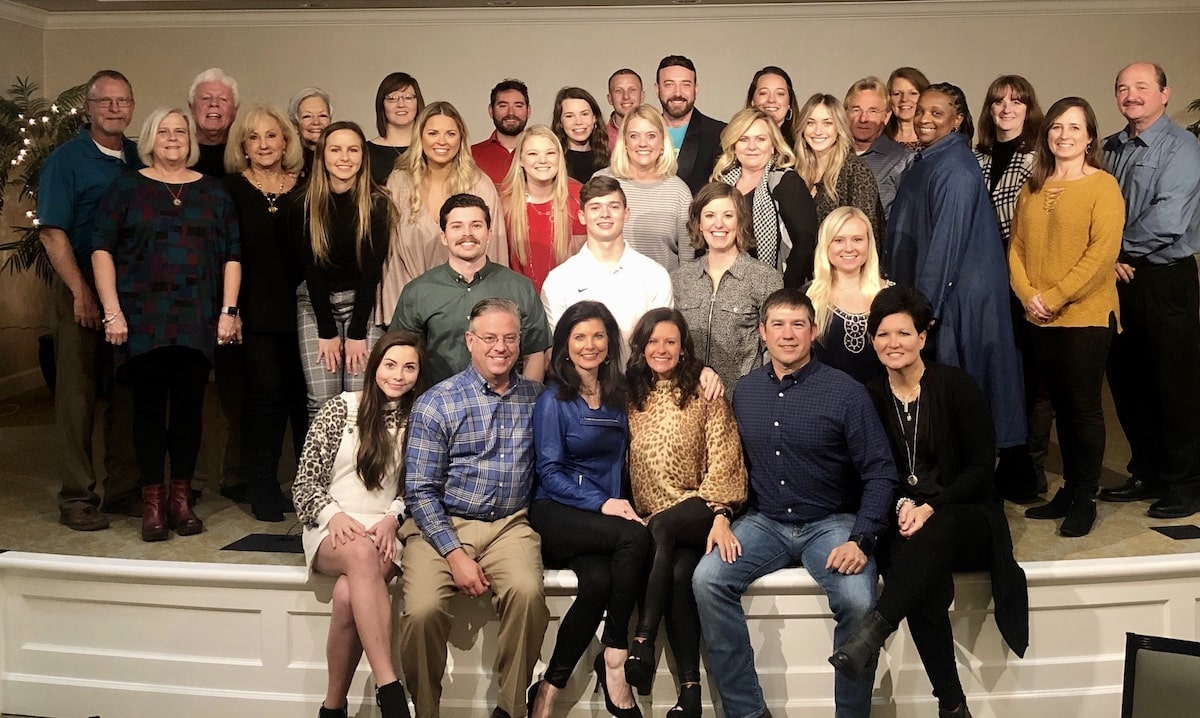 Rhonda Marchant
President and Founding Director
Rhonda Marchant is the former owner of Candice Ralston Dance Studios in Batesburg, South Carolina and previous owner of The Stepping Out Studio in Lexington, South Carolina. She has studied tap, jazz, and ballet with Naomi Calvert, Ann Brodie, and summer studies in New York at the Broadway Dance Center and Steps. She is also a USC Cum Laude Graduate with a degree in Broadcast Journalism.
She has worked for the SC ETV network as a host for the Carolina Journal show but has followed her heart to continue her career in dance and competition with her former dance instructor and inspiration - Naomi Calvert. In 1989, she founded her very own Stepping Out Dance Companies to promote excellence in training and to provide students with more performance opportunities and community involvement.
A former Junior Miss and State Talent Winner, Rhonda has been successful in training many statewide and national talent champions including five SC Junior Misses and Overall Talent Winners, and America's Junior Miss Overall Talent Winner in 2004. As a performer, choreographer and director, Rhonda has been involved with many college and community theater productions such as "Grease," "Oliver," "Fame," and "42nd Street." Rhonda now resides in Lexington, South Carolina with her husband, Andy, sons Aulston and Dillon, and daughter Mary Elle. She is also the founding director of the liturgical dance ensemble, Wings of Worship, at St. Stephen's Lutheran Church.
Read More
Susan Barnes
Vice President and Executive Director
Susan Barnes began her dance training at an early age with Candice Ralston and Rhonda Ralston Marchant. She danced and performed for over 24 years and was an award winning soloist. Susan was the Overall Talent winner and Top Ten finalist at South Carolina's Junior Miss, and was a cheerleader for the University of South Carolina Gamecocks.
Susan graduated from the University of South Carolina in May 2004 with a Bachelor of Science in Business Administration and a directed study in Public Relations and Retail. Susan has performed on many stages across the southeast and has also choreographed and directed musicals for many schools and community theaters. She is a former instructor at Stepping Out where she directed the Stepping Out Tap Companies. Susan continues to teach private lessons and is currently a group fitness instructor. She is proud to be a business partner with Encore DCS which brings a third generation of dance experience to the corporation. Susan resides in Lexington, SC with her husband, Adam, and their 2 children.
Read More
Hiliarie Covington
Regional Director
Hiliarie Covington has been dancing and performing from the age of two and is the Assistant Director/Lead Choreographer at one of the south's leading performing arts studio. She studied with Susan Anderson, Stacey Calvert and Miriam Barbosa at the University of South Carolina where she earned a Dance Performance and Choreography degree.
Hiliarie has also studied under Naomi Calvert, Mike Minery, Mia Michaels, Mandy Moore, Gregg Russell and Corey Burns. She was a member of her award-winning and nationally recognized collegiate Dance Team for two years. She has been competing since age 10 winning many overall awards for her solos and group routines. Hiliarie was an L.A. Underground Scholarship recipient, Top DTI Soloist, and Top Starbound Soloist. She now works with contestants in the Little Miss State Pageant system, Miss America and Miss USA system for their talent competition. She performed along the east coast with a grand finale show in Washington DC with the World War II tribute show "Road to Victory". She has also danced with Carnival Cruise Line and Royal Caribbean Cruise Line. Presently, she is a regional director for Encore DCS and choreographer for the nationals opening number and Dream Team promotional video as well as a sought-out choreographer across the southeast. Good luck to all the dancers today and remember "Great dancers aren't great because of their technique; they are great because of their passion."
Read More
Brandon Girouard
Regional Director
Brandon Girouard is a highly in-demand international choreographer, teacher and dancer – having brought audiences to their feet in Paris, London, Argentina, NYC and most recently Mexico. Known for "compelling, explosive movement", Brandon has performed with dance companies such as dancetheatreX, Melanie Stewart Dance Theatre, Alvin Ailey American Dance Theatre, Ailey 2, Koresh Dance, Plasma Dance Theatre, and for Bill Clinton's Inaugural Presidency Gala.
Professional credits include: Thanks Gregory!, Carnival Cruise Lines, Legends at the Harrah's Resort Las Vegas, Resorts Atlantic City, Nickelodeon's Kid's Choice Awards, and the National Tour of West Side Story. Brandon has worked with such noted choreographers as Mia Michaels, Brian Friedman, Robert LaFosse, Tiffany Mills, Gregory Hines, Brian Thomas, Debbi Dee,  Frank Hatchett, Jared Grimes and Charles O. Anderson both nationally and internationally. Brandon was awarded "Most Promising Performer" by Art Stone Dance, and was featured in Dance Spirit magazine in October of 2003 and 2004. Most recently, Brandon was awarded "Dance Teacher of the Month" and "Video of the Month" by Dance Teacher Magazine. In addition to choreography, Brandon has served as Assistant Choreographer for Broadway Bares and Broadway in Cape Town South Africa. Brandon is the Founder/Director of the Quest Intensive – The most cutting-edge 'in-studio' classroom tour working with the industry's biggest leadings names in Broadway, Concert Tours, Professional Dance Companies, Talent Representation and Casting Directors. For more information on Brandon & The Quest Intensive visit his website at www.bgprogression.com or www.questintensive.com.
Read More
Ashley Becker Payne
Regional Director
Ashley Becker Payne hails from Buffalo, NY holding a B.A. in Dance Performance from the prestigious Point Park University. As an international adjudicator, professional dancer and choreographer, Ashley has studied and taught throughout New York City, Miami, and now Chicago. As a performer, Ashley has appeared in film, television, concert dance and theatre productions.
Ashley's first standout roll was in the University production of Contact where she was a featured dancer and served as dance captain. Professional credits include: Regional Performances of: Contact; Grease; Mame; Fame and Sing, Sing, Sing; Episodes of: The Rachel Ray Show, Blue Bloods, The Dark House, and Company Work: 11:11 (The Company by Slam); DSMR; Crazy Love. Ashley has served as a choreographer for Jordan Sparks, Flash Mob America and the Chicago Freelance Dance Festivals. You may recognize Ashley from promotions for Oreo Cookies, M&Ms, Estee Lauder, Suave and Avon. Ashley spends her time traveling internationally for multiple dance competitions and conventions as an adjudicator, teacher and choreographer. In addition to her dance training she is a licensed Group Fitness Instructor and teaches Zumba, Zumba Kids, LifeBarre, Aqua Fitness and Pilates. Most recently, Ashley was named the Director of Management for Quest Intensive, the most prestigious in-studio intensive working alongside the industry's leading names in casting, Broadway commercial and concert dance. With Quest Ashley develops educational programs for studios across the country as well as teaches master classes on technique, musicality and creating artistry! She is very excited to be back with Encore DCS this season!
Read More
Christopher Robbins
Regional Director
Christopher Robbins is a born South Carolinian. A Member of Actors Equity Union, Chris has worked professionally in entertainment for over 24 years and his spectrum ranges from Singer, Dancer, Actor, Producer, Director, and Choreographer. Chris has worked with artists/choreographers such as Donny & Jimmy Osmond, Darius Rucker, Justin Timberlake, Kelly Rowland, Jennifer Holiday, Kristine W..
Jessica Schaefer
Regional Director
Jessica Schaefer is a Northeast Director of Encore DCS and her experience includes over 20 years of ballet, tap, jazz, hip hop, modern and lyrical. She has performed in countless theater productions, musicals and competitions. She trained in New York City during summers at Broadway Dance Center and became the featured dancer for Dance Theatre of Columbia for 5 years.
Jessica earned a B.A. in Dance and Theatre and a Masters Degree in Early Childhood Education from the University of South Carolina. She taught dance for over 10 years at many studios and schools in her area and has choreographed dances for South Carolina Junior Miss and many high school dance teams. Jessica lives in Arlington, VA with her husband, Elliot, and their two children.
Read More